The Chimp Front Shelf Has Arrived!
Need a little extra room when grilling on your Chimp? We know the feeling. That's why we designed our streamlined Chimp front shelf. Now your Chimp can have similar bonus space to place all your gear and grub, just like the Silverbac!
Made of all-weather 304 stainless steel, the Chimp Front Shelf provides additional workspace for prepping and plating your food. It easily adjusts, folding out when you need a place to set your cooking utensils or cold beverage, and folding in for storage until your next cook. No-need to purchase a new cover, the shelf fits perfectly under the cover you already have! Get the most out of your grilling experience with this must-have accessory, or give your friend a gift they'll never put away.
Quick & Easy Installation
You want to grill and smoke with minimal fuss. For that reason, we carefully engineered our perfectly sized (8″ x 21 3/4″) Chimp front shelf to conveniently go right onto your grill. If you can follow simple directions, you can install the Chimp front shelf in no time.
When you order your shelf, we'll send you a sheet that explains all about how to install it onto your Chimp!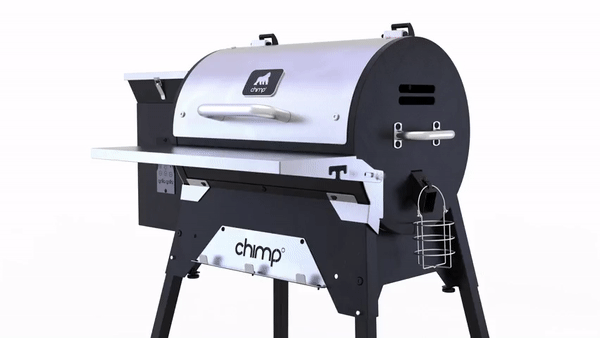 No Excuse Not to Grill Tonight
Have you ever decided not to grill one night, just because it was too much trouble to run back and forth to the kitchen for food prep? Stop making excuses and start becoming the pitmaster you were meant to be.
Are you taking the Chimp camping or tailgating, then this Front Shelf will make your life even easier. Finding a flat surface to prep food is not easy to come by when you take your grill into the wild! This front shelf is going to make those issues a thing of the past!
The Chimp front shelf allows you to do all the prep work right at your smoker. Do everything in one spot and make grilling an even better experience, every time.